Posted by Nol | 04/27/2007 @ 10:45 | Reply
Number six of the Cammenga 85 is Leonora III 1970/2000.

Posted by Johan | 01/28/2007 @ 11:50 | Reply
Nai'a is currently operating as a dive charter vessel, here is her website : http://www.naia.com.fj

Posted by Yachtspotter | 01/26/2007 @ 15:00 | Reply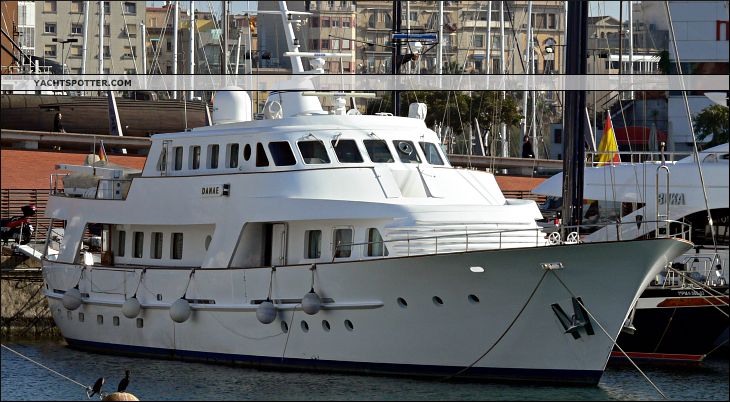 On the request of Johan, here is a picture of Danae. This Cammenga of 31.5 metres was not often photographed, like the 36.5 metres sloop named Nai'A built in 1979.

Posted by Johan | 01/09/2007 @ 16:00 | Reply
On the website of Bloemsma & van Breemen Griffoen is listed "Type : Pacific Class" which says something about her heritage. By the way, how long were the other Cammenga classes (Noordzee, Atlantic, ...)?

Posted by MW | 11/15/2006 @ 12:30 | Reply
The missing Pacific class Cammenga is the Sirena-A (originally Morondava) built in 1970.

Marevira was originally Saleira
Hera-C was Maine VII
Five Angels was Naomi
As You Like It was Skopelos
Moon Phase was Swanherd

Cammenga built around 35 yachts over 60 feet (18,3m) between 1959 and 1979 including eight Noordzee class, one Atlantic class, six Pacific class and one Oceanic class motor yachts. The 57,2m S Cape (originally Majestic M and ordered as Destiny II) was by far the largest yacht completed by the yard. This yacht unfortunately caused the demise of this fine Dutch yard. Several uncompleted hulls were finished by other yards in the 1980s.

The 27,3m Griffioen recently delivered by Bloemsma & van Breemen is very similar to Cammenga's Pacific class.

Posted by Yachtspotter | 11/13/2006 @ 16:00 | Reply
I think that I find five of the six "Pacific" :
- Marevira (ex?) 1972/2000
- Hera-C (ex?) 1973
- Five Angels (ex?) 1974
- As You Like It (ex?) 1975/2002
- Moon Phase (ex Marco) 1977/1997/2005

Posted by Max881 | 11/13/2006 @ 14:30 | Reply
According to this page, six "Pacific" class were built by Cammenga : http://www.devrieslentsch.com/...

Posted by Yachtspotter | 11/13/2006 @ 13:30 | Reply




Here is a picture of Hera-C built in 1973, with a beautiful blue hull. I suppose that she's a hull of the 85ft series that you're talked about. I'm curious to know exactly the number of sisters produced for this model...

Posted by Johan | 11/13/2006 @ 13:20 | Reply
Thanks! I forgot about Magistral and Marline, but the other ones were new to me.

Posted by Yachtspotter | 11/13/2006 @ 13:00 | Reply
Nice topic. Yes Cammenga built another series of three schooners of 35 metres : Magistral, Marline and Johann Smidt. Johann Smidt seems to be still used as a school boat, but she could be an interesting conversion for the future.

Cammenga also built another motoryacht named Danae. She looks like the 31.5m series built by Benetti in the Seventies. She's usually moored in Barcelona. I will post a picture.

It seems that Cammenga also built a large sloop of 36 metres, but I have no info in this case.

Posted by Johan | 11/13/2006 @ 12:50 | Reply
A number of yards like Picchiotti, Esterel, Krögerwerft, Schweers and Cammenga have either gone bankrupt or been bought by other yards while the yachts they launched are still afloat, so it might be an idea to have a heading for these yards.

I have a question about one of them, Cammenga, they built a series of 85 footers and the 188 ft S Cape, but did they ever build anything in between in terms of size?