---
YACHTSPOTTER's WORDS
- 07/27/2010 -


Yachtspotter.com is now running on a brand new server, ready for the future updates!
---
LAST REPORTS...

BBS : El Jefe


USA : Tuscan Sun


USA : Polar Star


USA : Kisses

BMU : Balaju


PYF : Tribu


USA : Miss Tricia


FRA : Celestial Hop


FRA : Stanley


FRA : Passionata



[more]
---
Lallie
Posted by Blaz | 05/03/2007 @ 11:00 | Reply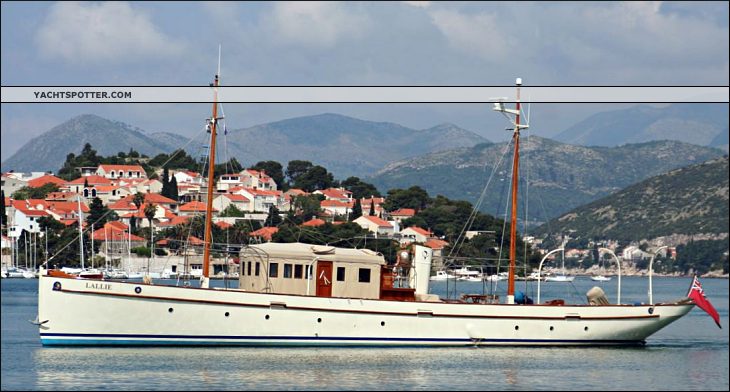 Hi, just wanted to add a picture of Lallie going out to sea from the port of Gruz, Dubrovnik (Croatia). The picture was taken on last week.

Posted by Sue | 04/02/2007 @ 16:00 | Reply
My ex husband and I bought Lallie in 1977 in London, an absolute wreck and spent seven years living on and rennovating her. In the early 80's we took the decision to sell her to a Dutch millionaire - who (along with our help as crew!) took her to Italy. It is lovely to see her again - she looks fantastic. I continue to live on a boat, a Dutch Tjalk and have a large painting of Lallie on my wall.

Posted by Joel | 05/25/2006 @ 18:45 | Reply
I have a book on The Little Ships of Dunkirk and can find no mention of Lallie, but this isn't to say that she wasn't involved in the evacuation. You may be interested to go to their website if you haven't been already : http://www.adls.org.uk

I researched on another website : the lady named Julia Sargeaunt may be an interesting person for you to speak to!! Link : http://www.swmaritime.org.uk/... (need to scroll to the bottom of the page to find her message...).

Posted by Wilfred Sultana | 05/25/2006 @ 17:31 | Reply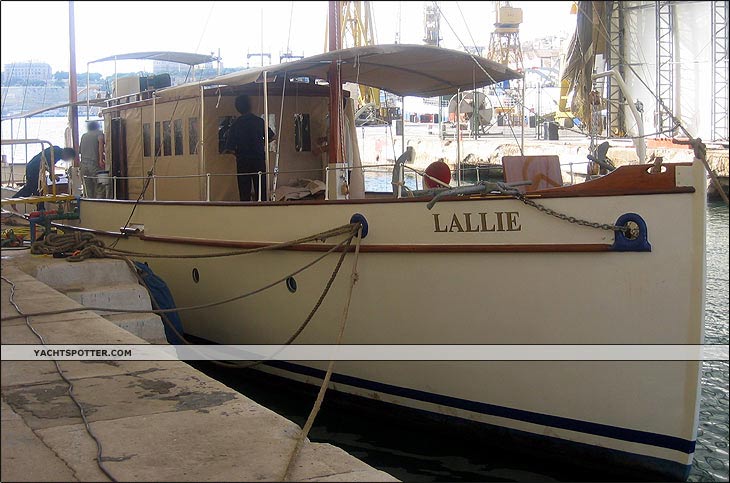 Another picture.

Posted by Wilfred Sultana | 05/25/2006 @ 17:30 | Reply




I would like to trace the origin and story of 27mts motor yacht Lallie in order to write a feature about this boat which earlier this year was in Malta for a general overhaul at the Malta Super Yacht Services. The boat, build in 1908, arrived in Malta in wreck condition yet the remarkable facelift it has been given aroused my interest not only to write about the "new look" Lallie but to try trace her original and some of her exciting seafaring adventures.

It is said that Lallie was one of the boats that was used for the evacuation of Allied troops from Dunkirk in June 1940. It is also said that for a number of years Lallie was a floating riverboat brothel in Paris. Well, like human beings boats too have their proud and less proud moments. Unfortunately I have not much information except that Lallie was built in Dartmouth, Devonshire and that she was registered in Glasgow when built.

Forwarded herewith are two photos taken at the Malta Super Yacht Services. Any assistance you could give me to get relative information would be appreciated : wilfred.sultana@anatlus.com