Posted by Robijn | 02/28/2007 @ 16:30 | Reply
It is so weird to read about the Welsh Liberty. I worked there as a crewmember in the summer of 1983 in the port if Monte Carlo. It was chartered by Khasoggi and lie next to his boat Nabila. I had no pictures of her (no disposable camera's then!), so its really great to see pictures of her. Did I work with you Kevin?

Posted by OceanVoyager | 01/11/2007 @ 22:30 | Reply
Kevin, you should post those images of the two yachts in the dry-dock. I'm glad to see my suspicions confirmed - i.e., that the "new" bow was an "add-on" job - just welded over the "old" bow. Thanks for posting that information.

Posted by Kevin | 01/08/2007 @ 11:30 | Reply
I must say that I find it remarkable that so many have kept the early history of the Welsh Princess (as I knew her). Looking at these pictures prior to her new bow is remarkable.

The old bow remained intact but hidden only seen by entering the forward locker hatch. (Used as a paint locker). I often wondered how she must have looked. Thanks for the photos.

I crewed aboard the Welsh Princess for just over a year after a few years with the other Welsh yachts in the Mid 80's but know her last owners quite well and stay in contact with them. The last time I was aboard in 1985, she had two Detroit Diesel V12 Turbos pushing her to a maximum of 12 K. She was unquestionably the pride of the Welsh Fleet. Unfortunately, I can confirm that she did catch fire and sank in the late 80's.

A BBC film production "Tender is The Night" was filmed aboard her in 1984 near Monaco. She was altered with paint and cardboard to straighten her lines to date her back to her true origin. I never did see the movie as it apparently hit budget problems. It starred Mary Steinbergen and some wanker actor who's name escapes me now. I just recall him being a real pansy and having spats with the director all the time.

The Welsh Princess crossed the Atlantic between the Med and Carribean on charter the last few years of her life and saw refit in Cardiff alongside the Welsh Falcon in 1982. I have pictures of both ships in the same empty Dry Dock after the new Bow was installed on the Falcon. Talk about Beauty and the Beast!

Posted by OceanVoyager | 11/23/2006 @ 20:45 | Reply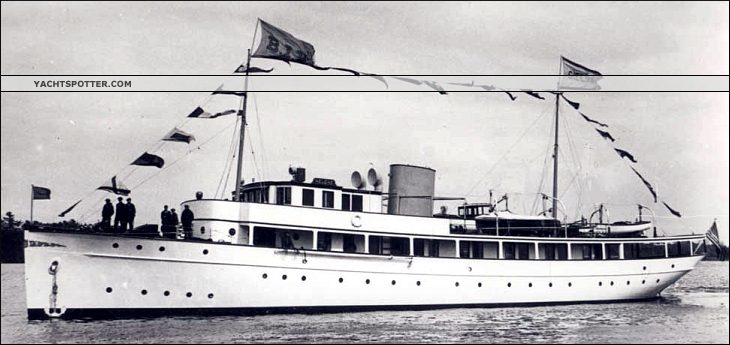 Today (Thanksgiving) is a busy day with little time for things in cyber ; but in a search through my files this morning I did find one photo in my collection which might be of great interest to you - a shot of Helene on the day of her launch (May 1931) at the BWI.

Posted by OceanVoyager | 11/23/2006 @ 19:00 | Reply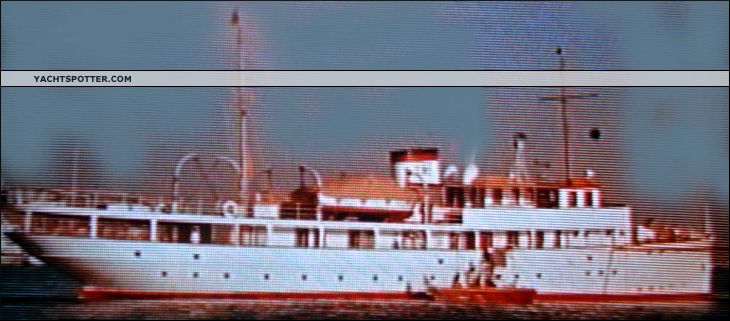 Actually, Charles... that photo of her in SF was taken in 1946 - while she was still the Cavanaugh. I will pull some jpegs from my files shortly and post them for you. In the meanwhile, here is a TV capture from the film "The Girl Most Likely" (1958) - starring Jane Powell and Cliff Robertson. Occasionally, the film is shown on TCM and you could consult their master schedule for the next showing. This particular image shows her smack in the middle of Newport Harbor - between Balboa Island and the Pavilion on the Balboa Peninsula... not the place where anyone is ever allowed to anchor ; but out of the shot are several patrol craft from the Newport Harbor master's office - all keeping the "set" clear. (More shortly).

Posted by Charles S. | 11/22/2006 @ 18:00 | Reply
Tony, the original "Helene" was 147' LOA. Please refer to the following URL for a listing of ships built by BIW : http://members.tripod.com/...

Posted by Tony B. | 11/22/2006 @ 11:00 | Reply
My grandfather had for sale before the war a 1931 Bath Iron Works built yacht which sounds very similar to Helene. I don't have a picture but I do have the sale particulars. Like Helene she was designed by Henry J Gielow Inc. Her name was "Seapine". I don't know how many such vessels Bath Iron Works built in 1931 (depression years) so I suppose it is possible that this might be your Helene. Tonnage 437. LOA was 154'10", Beam 26' powered by twin Cooper diesels.

Posted by Charles S. | 11/22/2006 @ 10:30 | Reply
| | |
| --- | --- |
| Jim, thank you for your reply, I would be extremely interested in anything that you could forward to me. I am trying to compile some family history for the benefit of my sons and most photographs of these old yachts are rare, if they exist at all. I am attaching a photo of "Caronia" taken in ??? passing under the Golden Gate bridge. It's rather poor quality but better than nothing. | |
Posted by OceanVoyager | 11/21/2006 @ 13:30 | Reply
Dear Mr. Sorensen : I'm Jim Rogers - now of San Juan Island, WA. In the mid-1950s while a college student, I crewed aboard (summers only) the Helene - which was then named the Caronia and owned by Donald K. Washburn, president of the Seven-Up Bottling Co. of California. Don Washburn was also a family friend. Prior to Washburn's ownership, she had been named the Cavanaugh and was owned by the Macris family (Los Angeles).

During the time I was aboard, she still had her original engines; but shortly thereafter - when if proved too costly to repair them, she was re-powered with the Caterpillars which were in her when she sank off the Ushant. When she arrived in Europe, her bow was modified from the original plum to a rake with a flare which increased her length slightly and (in my opinion) degraded her appearance.

I do have a photo of her in her last configuration - which appeared in a Bobrow-Jenkins book on classic yachts. I can send you information on the book or send you a JPEG if you wish.

Posted by Charles S. | 11/10/2006 @ 19:00 | Reply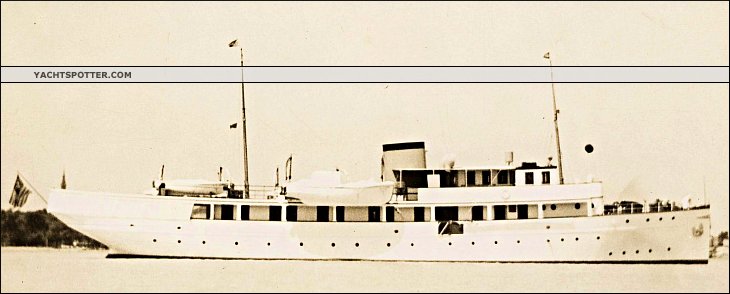 There seems to be some confusion about the name for the original "Helene" (Hull # 140 built by Bath Iron works) and the speculated demise for this grand old yacht. I find numerous opinions and hope that someone can shed some light on the exact story. The last time I saw her was in the late 60's in Ft. Lauderdale.

I am the grandson of Charles E. Sorensen, the original owner and spent many summer afternoons cruising the St. Clair river in Algonac, Michigan where she was berthed behind the family summer home. This yacht was the second "Helene" built by my family; the first "Helene" was 101' LOA and built by Defoe in Bay City. She is currently still in charter service in the Detroit area.

I have attached a photo taken in 1938.

Posted by John C. | 07/30/2006 @ 18:00 | Reply
Well, after a lot of emails round the World and the help of Lea Besse of Djiboutidivers.com I can confirm that the dear old Welsh Falcon lies at 500 meters just out of Djibouti harbour! And, at that depth she is well out of the way of divers, so its goodbye for ever!

Posted by OceanVoyager | 07/26/2006 @ 12:00 | Reply
The yacht which was re-named Welsh Princess and added to the Dragon charter fleet was designed by the New York office of Henry Gielow and built by the Bath Iron Works, Maine, USA expressly for Charles M. Sorenson, Vice President and Chief of Engineering for the Ford Motor Company. She was launched as Helene (after Sorenson's wife) in May of 1931. The information posted that she was owned by Henry Ford is incorrect. She was later re-named Caronia and spent much of her time in Southern California after the mid-1930s through the early 1960s (while a college student, I was a member of her enlarged summer crew). She was lengthened in her bow area shortly before or after being taken into the charter fleet.

Posted by Jonty | 07/11/2006 @ 00:15 | Reply
The talk of Welsh Liberty has me thinking this must of been the classicly styled yacht I used to see on my way to work each day. She was berthed in Newport Docks South Wales for many months and then one morning earlier this year she just wasnt there. I take it she was sold by Cavendish White (what is to become of her?). Perhaps Kevin has some photographs of his time aboard the Dragon Yachts which he could share with us?

Posted by Kevin | 06/29/2006 @ 20:15 | Reply
I crewed on almost all of the Dragon Yachts except for the S.Y "Welsh Honor". I crewed from 1981 - 1986 as one of the longest standing crew members in the fleet. I knew Old Man Bailey up until his death a few years ago and stay in regular contact with Charlie and Sarah.

A lot of the information you have is correct but mixed.

I can tell you for certain that the Falcon and the Princess are below sea level. The Falcon in the Red Sea and the Princess in the English Channel. I had the good fortune of captaining the Conquest on its last real voyage from Monaco to Cardiff. Let's just say it was a memorable trip. It sat in Cardiff for some time and was apparently sold, but never appeared after that. It was in deplorable shape with major hull rot when I took it from Monoco to Cardiff.

The "Honor" was sold in the early 80's with similar rot problems. I have no idea of the disposition of that yacht.

I can tell you that I was on the Falcon during the Cardiff refit when it had it's flared false bow installed over the "ice breaking" bow and the new Bridge deck and brow installed, both which changed the dynamics of the ship's look and stability. There actually was a crew quarter installed between the two bows that remained vacant as long as I was aboard. The Falcon had great character nonetheless and was probably the most recognized ship throughout the Med mainly due to its brash appearance, loud parties, and charming crews. It was unquestionably the funnest boat around. The Falcon that had telegraph commands to the engine room until her refit but it was the Liberty with her bus sized submarine engines and 12 second command delay that caused the trouble in Monoco Harbor. The Falcon was originally a rivited hull ship made in 1936 for the King of Norway.

The Princess was not as brash as the Falcon and had far more elegant lines and interior wood work. She was Henry Ford's "Margharita" or "Lady Margharita". Built in 1931. She also had a flared false bow (minus the crew quarter) installed prior to Bailey's purchase in the early 80's. She cruised the Med and Carribean and after an engine refit met her demise in the E. Channel apparently after an engine fire.

If your prior contact "john" was the captain in the Mid 80's, I never crewed under him but did cruise to Grenada with him on the Princess I believe in 86' where we lost an engine and had the US Navy help bail us out. He was kind enough to allow me the night watch under his command.

I worked aboard the Liberty for about 5 months during a refit in CapDai France. She still had her Submarine Engines then but was slated for an engine refit herself a year later. She still had the old Gyro that consumed the entire bridge quarter and had her original lines. I understand that all changed later and the aft deck was covered with a second deck to accomodate more space. She was commissioned as a D-day ship during her career.

Posted by John C. | 06/28/2006 @ 15:45 | Reply
Well, it seems that the confusion over the last known name of Marandis is over! She became the Welsh Falcon. Thank you Boat International for calling her the Welsh Liberty! What I need to know now is did she sink? And where?

Posted by John C. | 06/22/2006 @ 09:30 | Reply
Is it any wonder I am confused! Thank you for clearing some of it up! And a slap on the wrist for Boat International for publishing a photo of Welsh Falcon under the name of Welsh Liberty! At least I was right about the place and year of manufacture! However, the are still some doubts over what happened to her, apart from being given a variety of names on this forum some are convinced she sank off Brest or Djibouti ?

Posted by Gross-Segler | 06/22/2006 @ 00:20 | Reply
Sorry, but John C is confused. Marandis (ex-Annadan, ex-Seagull II) which later was renamed Welsh Falcon was 161.2 feet long (l.o.a) (about 49 metres) and 239 Registered tons. Built Gothenburg (Sweden) in 1936.

Welsh Liberty (ex-Welsh Passion, ex-Amazone, ex-My Evangeline, ex-Amazone) was 127.6 feet long (38.9 metres) and 142 reg.tons. Built by J.I. Thorneycroft & Co in Southampton (UK) also in 1936; rebuilt and modernized 1964. So a good deal small than Falcon.

Source : Lloyds Register of Yachts 1978 - an excellent annual which ceased publication after the 1980 edition because yacht owners did not buy it but expected to be given it!

Welsh Liberty was still listed in the Wood's International Yacht Register, volume 1, published 1993, as is the smaller Welsh Conquest (with photo of the latter). Hope this clears the matter up.

Posted by John C. | 06/22/2006 @ 00:05 | Reply
Now, this is getting quite confusing! I have just had an email from Cavendish White Ltd who tell me they sold the Welsh Liberty last year, ok, but, the picture they sent me is not the same Welsh Liberty as the one printed in Boat International Sept 1990 ! Cavendish White tell me that their Welsh Liberty was previously the Amazone, this is probably right as she looks nothing like the Marandis, The Boat International picture is the Marandis. But what was her name in the picture ? Welsh ??

Posted by Dominique | 06/21/2006 @ 12:30 | Reply
Sir Charles Forte was the owner of Maria Luigia III. This yacht was a Picchiotti 90'.

Posted by Johan | 06/21/2006 @ 12:00 | Reply
Thanks for Your interesting stories about her, John! I think she looks a little better with the longer bow overhang after the refit. Too bad to hear about her mechanical qualities, I have always thought she looked like a pretty little ship. Given that she is just about 40 metres, it is quite unusual to have four decks. Is it possible you could tell us about what her layout and interior looked like?

Posted by John C. | 06/20/2006 @ 20:30 | Reply
Yes, you are right Johan. I now have the picture of the Welsh Liberty. She is certainly the Marandis with a modified bow. Everything else is identical! The bow shape in my picture (a point from deck level upwards) was the result of an "economy" reshape done in the mid 60's when owned by the Clarks. I have a feeling the skippers cabin behind the bridge and the engine fit was done at the same time. It was an attempt to make her look "modern". You cant see the icebreaker bow unless she is out of the water. We all used to call her the "Banana Boat" ! Top speed was a whisker over 12K (clean). Sorry Gross-Segler, I was confused with all these Welsh...s !

Posted by Gross-Segler | 06/20/2006 @ 09:15 | Reply
What I said about Henry Ford is that he was reported to have owned Welsh Princess, not Welsh Falcon/Marandis. Has anyone news of the beautiful (in 1980) Princess?

As for Welsh Liberty, she was smaller and certainly lower than Falcon. Also had telegraphs, but when I skippered her for a day I found no problem as I was used to these from the Navy. Later when the Chief Engineer got made up to Captain he saw things could be improved and rapidly converted to Bridge Control. He later moved over to Falcon.

Welsh Liberty did have a dramatic collision in Monaco harbour, badly damaging Lord (Charles) Forte's motoryacht berthed at the Tee-pier. Name escapes me for the moment, but was something like Maria Luisa (his mother's name). This incident was perhaps what convinced the Baileys to invest in bridge control and avoid "mistakes" by the engineers.

Posted by John C. | 06/19/2006 @ 23:00 | Reply
I can confirm that the Welsh Falcon (not Marandis) was never owned by Henry Ford. It did spend some time in the Bahamas before moving to Mallorca in the mid 60's I believe. It was built around 1936 in Gothenburg as a coal fired steam fjord cruiser (it actually had a reinforced ice-breaker bow!). She was later converted to an oil burner and then to diesel, yuck! The engines being 12 cyl ex British Rail National Gas Oil shunting loco engines producing around 180 BHP each at a horrendous 1200 rpm. The noise was awful! Control from the bridge was by telegraph only. We used to say the only thing that kept her afloat was the rather worn out Vosper stabilisers, without them she would just roll over! Would love to hear from anyone else who had the misfortune to sail in her!

Posted by Johan | 06/19/2006 @ 22:15 | Reply
This yacht looks almost identical to Welsh Liberty, there are only a few details that differ, most notably that the superstructure at the boat deck level extends slightly longer onto the fore deck than the picture below. She is so similar that I think she is the same, but have been refitted later on. Welsh Liberty was available for charter through Dragon yachts as late as 1990, when she was pictured in Boat International. She is sister ship to Welsh Falcon and has a length of 40 metres. Both yachts had just been refitted when the photo in Boat International was published, so Marandis can be either of them I suppose.

Posted by Yachtspotter | 06/17/2006 @ 16:50 | Reply
About Welsh Falcon, Ken wrote : "She caught fire and sank off Djibouti late '80s."

Posted by Gross-Segler | 06/17/2006 @ 16:45 | Reply
Welsh Princess was one of the 4 or 5 charter yachts operated by the Bailey family, owners of Dragon Yachts (shipyard owners) in Cardiff, Wales. The others were Welsh Falcon, Welsh Liberty and Welsh Conquest (the smallest of these rather shabby motoryachts which chartered mostly on the Riviera). If my memory is correct, Marandis became Welsh Falcon, not Welsh Princess ; the latter had better lines and was reputed to have belonged earlier to Henry Ford the car manufacturer. But this conflicts with Melvyn's report.

Posted by Yachtspotter | 06/17/2006 @ 11:15 | Reply
Thank you John for this beautiful old picture! If I have good memory, Marandis was known under the name Welsh Princess later. She caught fire and sank off Brest at the beginning of 90's en-route to Cardiff from Med. But I don't remember all the details about her life.

Melvyn, another crew member on this yacht, already wrote these words on the forum : "I was employed in the early middle 80's to take a yacht called Marandis from Majorca to Cardiff. She had been bought by Dragon yacht's and the new owners had an interest in the shipyards in Cardiff. She had been lying in Palma for 11 years more or less as a houseboat. She had a major refit and was renamed Welsh Princess."

Posted by John C. | 06/17/2006 @ 10:15 | Reply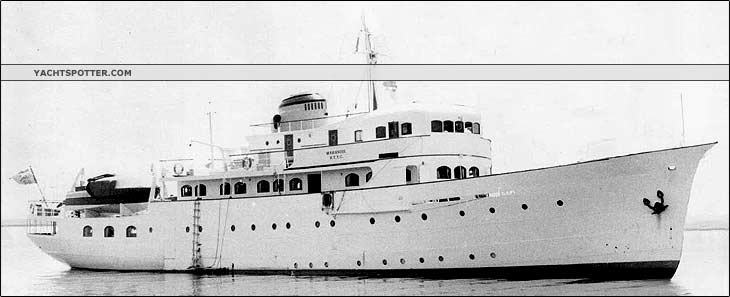 I am trying to trace the wherabouts of the Motor Yacht Marandis which I worked on as 2nd Engineer in the late 60's early 70's. It was based in Palma de Mallorca and owned by Cynthia and John Clark. It's previous name was I believe Seagull II ?