---
YACHTSPOTTER's WORDS
- 07/27/2010 -


Yachtspotter.com is now running on a brand new server, ready for the future updates!
---
LAST REPORTS...

BBS : El Jefe


USA : Tuscan Sun


USA : Polar Star


USA : Kisses

BMU : Balaju


PYF : Tribu


USA : Miss Tricia


FRA : Celestial Hop


FRA : Stanley


FRA : Passionata



[more]
---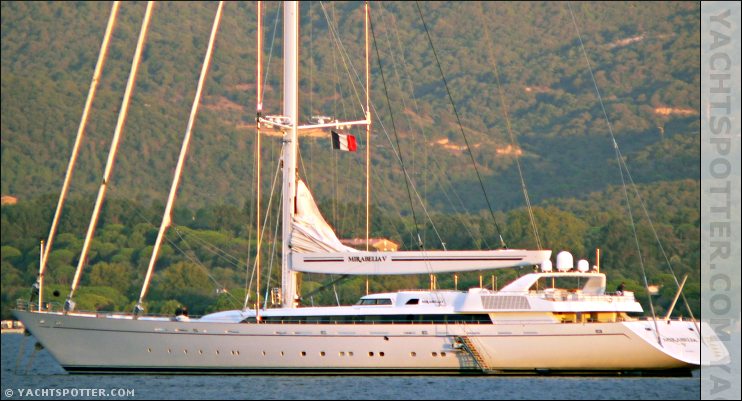 no reproduction without the permission of the photographer
| | | | |
| --- | --- | --- | --- |
| Shipyard : | Vosper Thornycroft, GBR | Length : | 246.80 ft / 75.20 m |
| Hull ID : | -- | Beam : | 48.50 ft / 14.80 m |
| Year : | 2004 | Draught : | 33.00 ft / 10.00 m |
| | |
| --- | --- |
| Refit : | 2005 |
| Naval Architect : | R. Doyle / J. Stott |
| Stylist : | Ron Holland |
| Decorator : | R. Holland / L. Vittoria |
| Engine : | 2x 805kW MTU diesels |
| | | | |
| --- | --- | --- | --- |
| Speed (max.) : | 16 | Range (Nm): | -- |
| Speed (cruise) : | 14 | Hull / Superstr. : | composite / composite |
| Guests : | 14 | Fuel (Ltr) : | -- |
| Crew : | 12 | Water (Ltr) : | -- |
Comments
By Joe Vittoria Jr, son of the owner.



There are several things, which make Mirabella V special.

First is its appearance. Its profile is sleek and proportional. So much so that many who see it only from a distance rarely believe that it is 248 ft. in length. Ron Holland has done an outstanding job in accomplishing this profile and yet maintaining ample headroom throughout the interior of both covered decks.

Second is the engineering, which has been applied to accomplish our sail performance objectives. This includes the lifting keel (weighing 150 tons) which in its down position, necessary for sailing, draws 33 ft. and yet only 13 ft. when fully raised. Just for a real world comparison, a Boeing 737 weighs around 150t fully loaded just before takeoff. The keel can be lifted in 6 minutes. In this setting Mirabella V can enter many harbours and ports in the popular cruising areas of the world. A further engineering challenge was the requirement of a single mast 292 ft. high carrying sails which would virtually cover a football field. The rigging exerts a downward pressure on the mast to give it the strength required to do its job. Again, in order to give some real world comparison, this pressure at the base of the mast (which is altered depending on what is needed), can reach 400t, which using the ?Boeing scale?, is equivalent to full 747 on takeoff. Her MPS is the largest sail in the world, and the mainsail is segmented at each batten. The bottom two battens use ?shock absorber? type pistons to cope with the compression on tacks. The boom is 82ft (28m) long.

The interior design and furnishing uses the finest silks and linens from Italy, antique furniture from England and antique oriental rugs partially covering wide board teak floors. It was important for the yacht?s interiors to look and feel like a sailing vessel, and to this end Ron Holland worked very closely with Mrs Vittoria to create a clean, uncluttered and comfortable interior. A major design benefit is the light-filled master suite which straddles the main deck. On the lower deck are 6 staterooms, four with king size beds, and two with twin beds. The main salon provides ample room for guests as well as a 20 seat dinner table. Several rooms have carpentry work supplied by Linley of London, including cupboard doors with full-sized inlaid maps of the some of the world?s foremost sailing locations.

There are two large dip pools on the foredeck, one filled with salt water, the other with 14 tons of fresh water. The former has a stationary swimming facility, the latter a heated Jacuzzi. The boat has 4 lasers, 2 jet skis, and three tenders including a Hinckley T29C. There is a full suite of scuba gear, and other water sports including skis, and inflatables.

Mirabella V?s hull is the largest composite structure in the world. She is fully MCA compliant (including 60 tons of fire insulating material). Mirabella V was created to compete against the large motor yachts which operate in the super luxury charter market, giving its clients the same space and facilities they would find on these huge motor vessels, but with the beauty and serenity (and silence!) of sail.
Spotters Log
| | | | |
| --- | --- | --- | --- |
| REPORT DATE | HARBOUR | LOCATION | ABOUT |
| 01/27/2010 | Nelsons Dockyard Marina | English Harbour, Antigua | -- |
| 08/19/2009 | Off Antibes | Antibes, France | anchored |
| 03/08/2009 | Porto Maurizio | Imperia, Italy | -- |
| 06/15/2008 | Port of Mykonos | Mykonos, Greece | -- |
| 05/06/2008 | Marina Molo Vecchio | Genoa, Italy | -- |
| 04/14/2008 | Compositeworks | La Ciotat, France | -- |
| 02/12/2008 | Compositeworks | La Ciotat, France | -- |
| 12/01/2007 | Compositeworks | La Ciotat, France | -- |
| 10/22/2007 | Compositeworks | La Ciotat, France | -- |
| 08/31/2007 | Golfo Pevero | Porto Cervo, Sardinia | anchored |
| 06/16/2007 | Portosole | San Remo, Italy | -- |
| 05/23/2007 | Port Hercule | Monaco, Monaco | -- |
| 05/15/2007 | Shipyards in Genoa | Genoa, Italy | at Amico |
| 04/06/2007 | Shipyards in Genoa | Genoa, Italy | at Amico |
| 04/01/2007 | Gibraltar Strait | -- , Gibraltar | eastbound |
| 03/27/2007 | Horta Marina | Faial, Azores | -- |
| 02/10/2007 | Falmouth Harbour Marina | English Harbour, Antigua | -- |
| 01/15/2007 | Port de Fort-de-France | Fort-de-France, Martinique | -- |
| 12/26/2006 | Soufriere Bay | Soufriere, St. Lucia | anchored |
| 11/30/2006 | Puerto de la Luz | Las Palmas, Canary Islands | -- |
| 11/27/2006 | Gibraltar Strait | -- , Gibraltar | westbound |
| 10/12/2006 | Shipyards in Genoa | Genoa, Italy | -- |
| 03/08/2006 | Falmouth Harbour Marina | English Harbour, Antigua | -- |
| 01/30/2006 | Port de Gustavia | Gustavia, St. Barthélemy | anchored |