---
YACHTSPOTTER's WORDS
- 07/27/2010 -


Yachtspotter.com is now running on a brand new server, ready for the future updates!
---
LAST REPORTS...

BBS : El Jefe


USA : Tuscan Sun


USA : Polar Star


USA : Kisses

BMU : Balaju


PYF : Tribu


USA : Miss Tricia


FRA : Celestial Hop


FRA : Stanley


FRA : Passionata



[more]
---
Creole
(ex Magic Circle, Creole, Vira)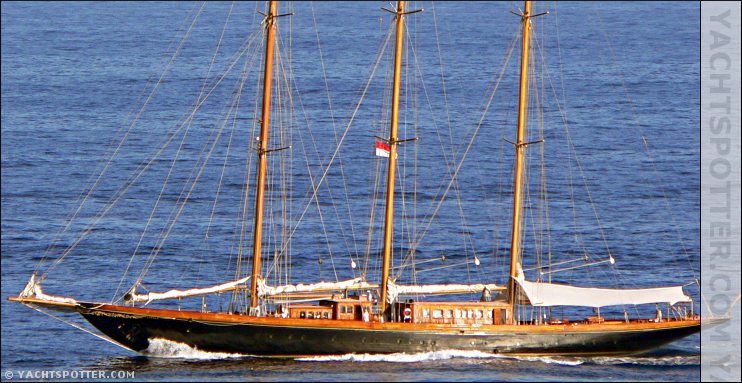 no reproduction without the permission of the photographer
| | | | |
| --- | --- | --- | --- |
| Shipyard : | Camper & Nicholsons, GBR | Length : | 214.20 ft / 65.30 m |
| Hull ID : | -- | Beam : | 31.00 ft / 9.45 m |
| Year : | 1927 | Draught : | 16.40 ft / 5.00 m |
| | |
| --- | --- |
| Refit : | 1937 / 1948 / 1985 |
| Naval Architect : | Charles E. Nicholson |
| Stylist : | Charles E. Nicholson |
| Decorator : | Russo |
| Engine : | 2x 336kW MTU diesels |
| | | | |
| --- | --- | --- | --- |
| Speed (max.) : | 14.5 | Range (Nm): | -- |
| Speed (cruise) : | 10 | Hull / Superstr. : | wood / composite |
| Guests : | 12 | Fuel (Ltr) : | 25,800 |
| Crew : | 16 | Water (Ltr) : | 9,400 |
Comments
By Yachtspotter.



For our first sailing ship, we wanted to make you to discover an exceptional yacht. Some say that she is the most beautiful sailing ship ever built ; others say that she is damned... We will tell you the history of Camper & Nicholsons? most beautiful creation : Creole.

It began in 1926. A rich American, Alec Cochran, decided to build the most beautiful sailing ship in the world. He knew that she would be his last yacht as suffering from tuberculosis, his health was failing. It was one of his friends who baptized her Vira in 1927. But this man, Fred Hugues was an old man, and he needed three attempts to break the bottle of Champagne on the hull. As everybody knows, this brings misfortune! Very sick, Cochran was impressed but frightened by the height of the masts. Several times he reduced their height, so that Vira resembled to a motor-sailboat. Not being in her original configuration, the sailing ship was too heavy and reacted badly to the swell. Cochran gave up her and put up her for sale.

A major, Maurice Pope, having made his fortune, repurchased her in 1928. He renamed the sailing ship Creole after (because of a dessert - a speciality of his cook). The Major left the sailing ship in her semi-sailboat configuration. He only used her to make circuits, at this extremely fashionable time. Ten years later, Creole was again put up for sale.

In 1937, Sir Connop Guthrie bought her. After a return to Camper & Nicholsons, Creole regained her original splendour. She finally sailed under the conditions imagined at the time of her creation. She took part in many regattas.

In 1939, the Second World War erupted. Creole was requisitioned, renamed Magic Circle and transformed into a mine hunter. She sailed close of to Scotland throughout all the conflicts and lost her masts. Returned to the family at the end of the war, she became abandoned.

In 1947, a Greek ship-owner decides to repurchase her. He was called Stavros Niarchos. Once of more, Creole was given in a poor state. The restoration took place at ISC in Germany. The largest roof which contains the living room was slightly increased in size. At the beginning, Niarchos very often lived on board Creole. He worked and sailed on her very regularly. Very meticulous person, Niarchos required that his crew maintains his sailing ship perfectly. He was very proud, mainly because Onassis was jealous of him. But in 1970, Niarchos' wife was found dead. Officially some spoke about of suicide... Following this tragedy, Niarchos didn't use Creole again. Again she had become remained abandoned before once more being offered for sale. During this time, Onassis built Christina. In Counterpart, Niarchos built Atlantis...

In 1977, the Danish government bought Creole to make a sailing ship-school of her. In fact the yacht was used for the rehabilitation of young drug addicts. After five years of use, Creole was almost a wreck and was again put up for sale.

In 1983, Maurizio Gucci, the celebrated couturier, repurchased her for total refurbishment. All was to be remade. Six years of work were necessary. But the shipyards chosen for her restoration (Lürssen and Astilleros de Mallorca) were not specialized in the old rigging and the final result was not good. Creole was too heavy, and the rigging was unusable. Gucci called upon the original sail maker, Rastey, to complete the work. Finally the construction of Creole was a success. But the curse struck again. In 1995, Gucci was assassinated. To everyone?s surprise it was discovered that his wife was behind the murder. She was sentenced to thirty years in jail.

Today, Gucci?s two young sisters occupy themselves with Creole. Her appearances are rarer than before. Nevertheless the sailing ship often accompanies her owners during regattas. Creole is used as an escort. The two sisters sail on another smaller sailboat, a very beautiful sloop is called Avel (wind in Breton) and dates back to 1896. Entirely restored in 1990, she does not have an engine.

To return to Creole, her installation is beautiful. The main deck exhibits several roofs. Largest one contains the substantial lounge. The roofs forward contain the pilothouse and the navigation room. The lower deck accommodates five guests staterooms (aft), the dining room and the owner's suite (to the center), and the crew quarters (forward).

We had the chance to see Creole evolving with all sails. There is not more beautiful spectacle on the water...
Spotters Log
| | | | |
| --- | --- | --- | --- |
| REPORT DATE | HARBOUR | LOCATION | ABOUT |
| 03/21/2008 | Shipyards in Palma | Palma, Mallorca | at Astilleros de Mallorca |
| 12/12/2007 | Shipyards in Palma | Palma, Mallorca | at Astilleros de Mallorca |
| 11/08/2007 | Shipyards in Palma | Palma, Mallorca | at Astilleros de Mallorca |
| 09/01/2007 | Puerto de Mahon | Menorca, Balearic Islands | -- |
| 08/19/2007 | Club de Mar | Palma, Mallorca | -- |